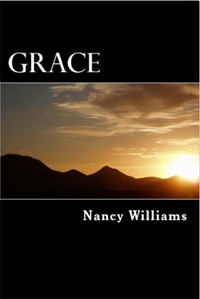 Grace (The Hawkmoon Trilogy Book 2)
Back when women were expected to be quiet and delicate, Molly Stone was an anomaly. Fearsome, independent and haunted by the brutal rape and death of her sister long ago, she wanders the plains alone, torn with guilt for not saving her.
While passing through a small town in Kansas, she runs afoul of a lecherous minister deflowering a young girl. Reminded of her sister, Molly has Reverend Jim run out of town. But before moving on herself, she finds her old friend Pepper jailed for a murder he didn't commit. After breaking Pepper free they set out to track down the real killer. Along the way they are joined by Todd Rainwater, a sweet half-Indian boy looking for his father and thus his heritage. Before long Todd starts to have feelings for Molly; but is Molly capable of loving back? Can she overcome her past and allow room in her hardened heart for love?
Meanwhile Simeone, the young girl, has been disowned by her family and now roams the plains in search of both Reverend Jim and Molly. Abandoned by the reverend and carrying his baby, she wants him to take responsibility for their child and she wants Molly to help her as payback for ruining things in the first place. In Simeone's naive eyes, if not for Molly, surely she and Reverend Jim would be married.
Yet the Reverend carries his own grudge, vowing to find Molly and kill her for humiliating him. As his obsession grows he devolves into a truly terrifying monster, taking out his rage on any woman who happens to cross his path.
The second installment of The Hawkmoon Trilogy, Grace won the 2009 Paul Gillette Writer's Prize for Historical Fiction.