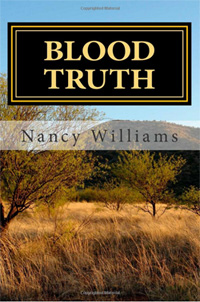 Blood Truth (The Hawkmoon Trilogy) (Volume 3)
In Blood Truth, the final installment of the Hawkmoon Trilogy anti heroines Sadie Hawkmoon and Molly Stone find themselves strangely partnered up. Molly is on her way east to find Todd Rainwater, hoping he is still willing to accept the live she is finally willing to give. Sadie tags along, not yet ready to face her own love-Seth Wilder-who waits for her with waning hope in Colorado.
Little do they know that they are being pursued by a pitiless killer named Bishop Mahl, hired by the Governor of Kansas to bring Molly to justice for killing buffalo hunters. He has a witness-a hunter who lived and can identify Molly.
Blood Truth is the final chapter in the tale of love, redemption and hope. In it, Molly and Sadie discover the incredible truth that binds them together.